Which backup program should you use for Amazon S3?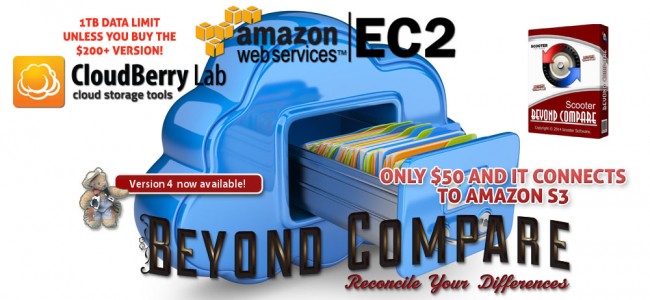 Well, after doing a lot of research on where to backup my files, I found my perfect setup with Amazon S3 Servers … Then I checked out programs that would map a drive to the S3 storage , and ran across several different companies, but one that kept standing out was CloudBerry Lab.  They offered a fair-priced small software that mapped a drive to my Amazon S3 Buckets and they also offered a Backup Program to use to backup the files to the bucket of your choice. Everything seemed pretty cool, so I made the purchase of both programs.  I decided to do my first backup while I was working one night, and as soon as I ran the backup, my entire network goes down.  No internet access, no SmartTVs, no connecting to other devices on my internal network, nothing in and nothing out … backup was working though and it did upload a fair amount of data overnight.

So I go to the CloudBerry forums to check on this issue and see that the first post is about a 1 TB limit the software comes with … what? I can only backup 1TB of files?? So then I start to think, maybe that old backup program I use to use all the time will connect to Amazon S3, and holy cow it does! Scooter Software's Beyond Compare has been one of my go-to software for a very long time.  Not sure why I didn't even think of it.  Right now I am backing up 80GB of data while being connected to the internet and watching Netflix.  I'm sure that Cloudberry has a fix, or will have one soon for it eating up all my bandwidth.

CloudBerry Backup Server has several price breaks but the main one that you would get is about $80, which has the 1TB limit.  You would have to spend more than $200 on their ENTERPRISE version in order to backup more than 1TB of data at home. Beyond Compare PRO cost $50 for a single USER license, which means you can load it on your main computer, your laptop and your Microsoft Surface Pro 3. Beyond Compare is licensed on either a per-user or per-workstation basis.  A single user license covers one person using BC on any number of computers, or a single workstation accessed by multiple people. That's the way to take care of your client's needs!
So basically I can backup all my files from my main computer at home using Beyond Compare. While on the road, if I need a client's data folder, I just fire up Beyond Compare on my Microsoft Surface Pro 3 and pull down the files, work on them, then push them backup up. When I get home, I can make sure to mirror them back down to my main working computer where I keep a local working copy of all the data.
The Cloudberry Drive Mapping software and the Backup software are both very nice pieces of software, just a little more expensive to own and you have to buy a license for each software on each computer.
So there you go, two very good software at two distinctly different price breaks. Check them out and get your backups into an Amazon S3 Bucket today!
Beyond Compare will also display differences in all kinds of files as well which comes in handy.